Hado Shiatsu: Human Systems as Quantum Systems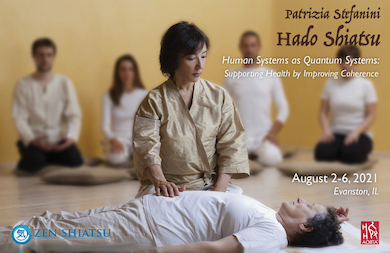 Hado Shiatsu: Human Systems as Quantum Systems
An Intensive With Patrizia Stefanini
APRIL 4-8 2022 Monday-Friday 9am-5:30pm
A 5-day intensive with one of the world's most renowned shiatsu instructors.  Enrollment is limited! 
The first-ever U.S. intensive with Patrizia Stefanini, Shiatsu Therapist, Ph.D. in Quantum Biophysics, and director of the European Shiatsu Institute. 
Pricing: $995 by March 3rd, $1095 thereafter
Deposit: $400 due to hold place in class, balance due by March 3rd to secure discount.
All hours approved for NCCAOM PDA credit and NCBTMB CEs (35 hours total). 
All hours also count towards CE hours for renewal of IL licenses for acupuncture, massage therapy, physical therapy, nursing, occupational therapy, naprapathy and social work.
In the Japanese tradition, Hado is the innate transforming power of each thing and each living being. The literal translation of the Kanji is "wave–like movement, vibration".  Hado Shiatsu is the method developed by Patrizia, combining scientific inquiry with the direct experience of life energy.  In Hado Shiatsu we can experience life as a dynamic network of energy and information traveling through organic liquid crystals and inducing biological processes.  Patrizia will present her practical approach and show how it is possible to "whisper to cells".
Human Systems as Quantum Systems: Supporting Health by Improving Coherence
In this 5-day experience, we will go deeper into fully experiencing the reality of other humans as energetic fields, learning practically how to resonate with and perceive the quantum properties of water and light.  We will move far beyond thinking about the theory into the direct experience of the reality of a human being.
Patrizia will review the history and evolution of shiatsu from Masunaga's methods to Pauline Sasaki's Quantum Shiatsu, to her own research and development of Hado Shiatsu.  
Hado Shiatsu: What You Will Learn And How To Register
What You Will Learn:
You will learn specialized observation methods for monitoring the emission of light from a person and how to use that information in our shiatsu assessment. We will learn to deepen our empathic connection to our receivers through the direct experience of quantum coherence and the liquid crystal state of a person.
You will be better able to recognize the fundamental unity of every cell with each other cell and of every human being with their environment. You will be ready to help each client relate to beauty inside and outside of themselves.
We hope this experience will leave you with a renewed sense of wonder toward life that will become a natural part of your therapeutic practice!
The class will include practical application of the theory: case histories proposed by the teacher and by the participants, as well as applications for practice in commonly encountered clinical situations.
Participants will study:
Meridians and their relationship to light
How to monitor organic light fields
How to connect empathically with our receivers
Practical Applications in common clinic scenarios
Research, articles, videos, books and other sources for further study
Deposit and Registration:
$400 deposit holds place in class, the remainder is due by March 3rd for early pricing, or by the first day of class otherwise.
Early Pricing: $995 total
Regular Pricing: $1095 total
How To Register:
Registration for Zoom classes must be received 48 hours prior to the start of class. Registration will close after this time.
Registration for in-person classes that start on Saturday, Sunday or Monday must be received by 4pm Friday. Registration will close after that time.
If you are not ready to pay, you can still add your name to the interest list. Your space will not be permanently held until payment is made.
To pay by phone, call 847-864-1130
To pay online, check the box next to the associated start date below and  select the "NEXT STEPS " button. By prepaying you agree to our registration policies.
Register For Hado Shiatsu - Human Systems as Quantum Systems Course: