Trauma-Informed Bodywork: Embodying Resilience - Healing Trauma Course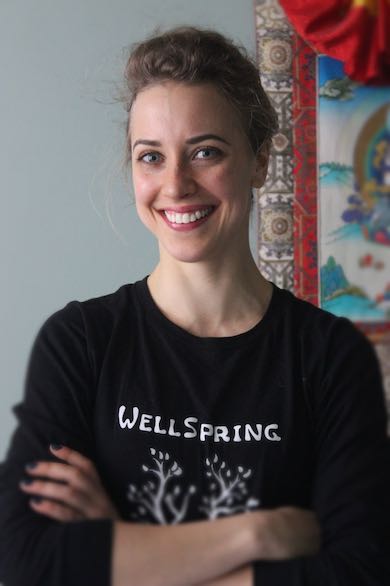 Trauma-Informed Bodywork: Embodying Resilience - Healing Trauma Course Description:
Taught by Dana Christy (they/them)
12 CEs, $300 – Includes Ethics hours and 1 hour of Sexual Harassment Prevention
This 12-hour course of trauma-focused pedagogy and practice equips healthcare practitioners with the tools they need to safely and effectively work with survivors of trauma.
This course counts as an Ethics course for those with Ethics education requirements.
Embodied Violence, Embodied Resilience
A Trauma-Informed Approach to Healing
"The Body Keeps the Score:" The Physiology of Trauma
We begin the workshop first by defining trauma as a physiological phenomenon where our nervous system's ability to adapt has been overwhelmed. This can be both acute (e.g., a rape) or chronic (e.g., relationship abuse). In this situation, our default physiological response shifts to survival mode. If we are unable to effectively process this traumatic experience, we can remain trapped in this "fight or flight" mode. To understand this, we review the basic physiological functions of trauma, starting by examining the nervous system. We discuss how embodied healing modalities are helpful in retraining our nervous system to effectively up- and down-regulate as needed.
Trauma-Informed Bodywork: Embodying Resilience - Healing Trauma Focus:
We discuss how we are "wired for resilience" in that our nervous system inherently supports recovery from traumatic events. We acknowledge that this perspective empowers clients to learn more about their own nervous systems, including how to effectively self-regulate. In doing so, we reframe healing not as an intervention but as a lifestyle practice. This also offers a scenario in which the survivor is not to blame for their trauma response (which often carries shame, especially when it is held in the body for long periods of time); whatever their body did in response to the event was done unconsciously, automatically, for their own self-preservation.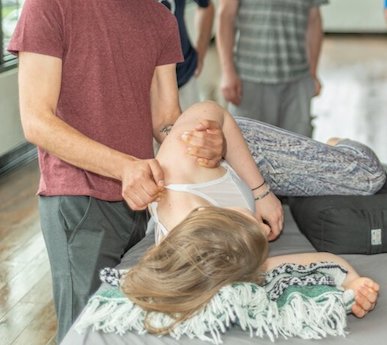 Healing the at the Source: Embodied Modalities for Transformation 
This portion of the workshop focuses on equipping practitioners with the skills, sensitivity, and confidence they need to effectively meet survivors where they are in their healing journey. Now that we have a solid understanding of the physiological impacts of trauma, we begin to look more closely at how trauma manifests physically in all aspects of being, both during and after the traumatic event. What does it mean to say that "the body keeps the score?" On what other levels of existence do we hold on to traumatic memories? And, based on this information, how can bodywork offer an effective approach to healing?
We look more closely at the profound impact embodied healing modalities can have in addressing the many physical, energetic, cognitive, emotional, social and spiritual aspects of trauma. We acknowledge how we, as healthcare practitioners, are uniquely equipped to promote a survivor's innate capacity to heal. This portion of the workshop allows time for specific questions regarding the specific healing modalities participants use, and how different concepts around trauma-informed treatment might apply in these different practices.
Creating Space for Transformation
Tools for Transcending Trauma
Holding Space for Healing: Safety, Agency, and Consent
As practitioners of the healing arts, our work with survivors begins long before we see them in our physical spaces. This portion of the workshop gets into the nitty gritty of survivor-centered care. We review how to create a safe(r) space for survivors, from our intake forms and processes, to how we set up our treatment spaces, to how we interact with our clients before, during, and after the session, to how to address "triggers" if and when they do arise. We discuss the importance of invitational rather than directive language in giving survivors a sense of consent in every aspect of the treatment process, and allow time to practice using this verbal approach in various stages of our interactions with clients.
We also discuss how to empower survivors to get in touch with their own nervous system response, and begin to build the tools of self-regulation. For many survivors, the body itself can feel like an unsafe space. We move through several different practices we can offer survivors (and ourselves) to encourage exploration of the body's own capacity for resilience and transformation. Finally, we discuss the importance of our own self-care as healthcare practitioners in the trauma field, and explore concrete techniques we can use to bolster our own nervous system awareness and regulation. We discuss both the importance of firm boundaries and the power of selective vulnerability in creating an effective, sustainable therapeutic relationship.
The Personal is Political: The Collective Experience of Trauma
Individual trauma cannot be viewed independently of its sociopolitical context. We experience traumatic events within a larger trauma reality based on identity and community. As healing artists, we have a responsibility to address trauma on both the personal and the collective level. If we attempt to separate a survivor's trauma from its political context, we are invalidating their lived experience and further isolating them from the healing capacities of their community. Therefore, our work as trauma-informed practitioners must be grounded in anti-racism, intersectionality, equitability, and social justice.
We discuss how the effects of trauma differ across groups based on access to care, believability, bias, and privilege. We examine the intersectional barriers to care, and how we can create space in our practices to center survivors in under-resourced, underprivileged, and underestimated communities. Many of the tools we have learned as healing artists are highly colonized in that they are created by people with white/cisgender/heterosexual/thin/able bodied privilege. Practices based in oppression cannot bring about liberation, so we discuss alternate approaches to our work, leaving plenty of time for questions regarding specific modalities. We also look at forms of generational, cultural, epigenetic, and ancestral trauma and how these embodied memories intersect with the lived experience of personal trauma. 
Trauma-Informed Bodywork: Embodying Resilience - Healing Trauma: How To Register
How To Register:
Registration for Zoom classes must be received 48 hours prior to the start of class. Registration will close after this time.
Registration for in-person classes that start on Saturday, Sunday or Monday must be received by 4pm Friday. Registration will close after that time.
If you are not ready to pay, you can still add your name to the interest list. Your space will not be permanently held until payment is made.
To pay by phone, call 847-864-1130
To pay online, check the box next to the associated start date below and  select the "NEXT STEPS " button. By prepaying you agree to our registration policies.
Register For Trauma-Informed Bodywork Course: