Zen Shiatsu Chicago Faculty: Elise and Kaleo Ching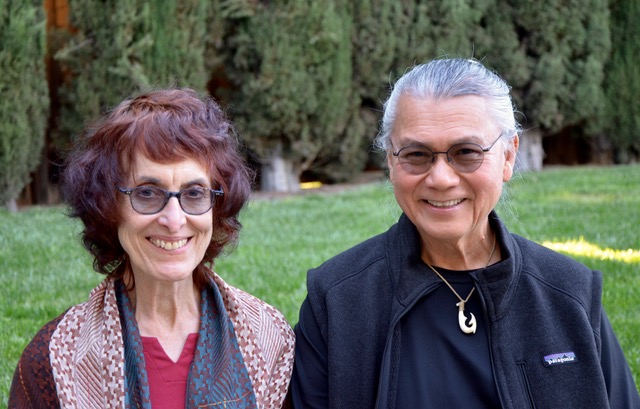 Kaleo Ching:
Born and raised in Hawai'i, Kaleo was embraced by the spirit of the 'āina (land), the aloha and kōkua (loving kindness) of its people, and the profound feminine mystery of the ocean. Kaleo was acknowledged as kumu (teacher) by the late Kumulomilomi Dane Kaohelani Silva, a Kahuna Pule (line of Lono – Pu'uhonua 'o Honaunau, Hale o Keawe).
Kaleo is a Qigong teacher and is, following his lineage of ancestors, Buddhist/Taoist and feels an intimacy with his ancestors of blood, land, and Spirit. He sees clients in his private practice of Hawaiian Lomilomi massage, Medical Qigong, and shamanic journeying. "At times, it's been a special honor to have been asked by some who are dying to help them prepare in body, mind, and spirit for their transition."
His Mother was from the Pāhala sugar cane plantation, Big Island, and his Father from Kalihi Pālama and Tin Pan Alley, O'ahu. "Mom and Dad met during World War II when Dad was stationed in Hilo, on his way to the Pacific front. Mom had a passion for playing 'ukulele and singing Hawaiian music, and at times Dad would spontaneously hula to her music. Home was always filled with the sounds of Hawai'i, and aloha is ingrained deeply in my heart."
From 1967 to 1971, Kaleo served in the U.S. Army Security Agency, trained as a German linguist at the Defense Language Institute in Monterey, CA. "I was stationed in West Berlin, where I lived with my German girlfriend and got to be very close to her family who had survived the Second World War. I also did volunteer work with children in German orphanages. These experiences taught me how war affected peoples' lives and psyches for generations to come."  After Army service, Kaleo earned degrees in Art. "My instinct grasped that art emerged from subconscious and spiritual realms and had the power to heal. I dreamed of teaching art as a process for healing and transformation."
Elise Dirlam Ching:
a published and an award-winning poet, a practitioner of hatha yoga and Qigong, and a practitioner of contemplative spirituality. As a lover of the vanishing wild beyond the edge of the road, her poetry is inspired by the mystic realms of nature and Spirit. Elise and Kaleo have co-authored six books and are in the process of writing a new book: Riding the Midnight Wing (poetry by Elise and shamanic healing journeys by Kaleo).
In 1988, in the Bay Area, CA, they fell in love, got married, and were "parents" of Australian Shepherds, Teekkona and Kahu. From the very beginning, their marriage has been infused with their spiritual search, which included explorations in Christianity, Buddhism, Taoism, Hinduism, the Jewish Mussar teachings, and shamanic practices.
As Teachers
"Our spiritual beliefs are centered on aloha (love) and lōkahi (harmony) as core truths with all coming from this core. What has evolved for us is a holistic process integrating Qigong, Shamanic Journeying/Hypnotherapy, and Art to engage body, mind, and spirit for healing and transformation. We are blessed to have shared at multiple venues.". These include John F Kennedy University Arts and Consciousness Dept.(adjunct professor, 25 years); University of Creation Spirituality; Institute of Transpersonal Psychology/Sofia University; LucasFilms/Industrial Light & Magic; Transpersonal Instituto Universitario, MX; Transpersonal Psychology workshops in Guelph and Vancouver, Canada; Hawaiian Healing and Art Centers; Chi Nei Tsang Institute; CURA (Carnales Unidos Reformando Adictos). Kaleo also taught in the jails and for Haight Ashbury Free Clinic's Jail Psychiatric Unit, San Francisco, and the Acupressure Institute, Berkeley.
As Volunteers
As volunteers they've shared "Qigong for Peace and Spirit" for many venues, e.g. the Peaceful Heart Sangha (Buddhist), Interfaith Councils of Rossmoor & of Contra Costa, Mount Diablo Peace & Justice Center, Peace Lutheran Church, Monument Crisis Center, and schools. Kaleo has given Acupressure/Massage to health care clients at Concord Veteran Center, Ca Care Force, monks at New Camaldoli Hermitage, and sisters at Our Lady of the Redwood Abbey. Elise volunteers in animal husbandry and in education at Lindsey Wildlife Experience.