Zen Shiatsu Chicago Faculty: Sara Vanin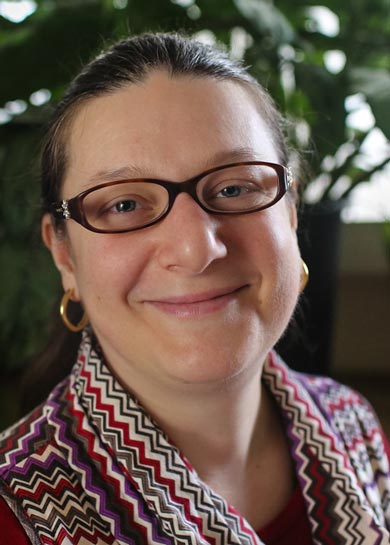 Sara Vanin is an Illinois licensed massage therapist (LMT), a Shiatsu and Zen Shiatsu practitioner and instructor (Ohashi Institute NYC, 2001), an Institute for Integrative Nutrition (IIN) Holistic Health Coach, a Himalayan Institute (HYMC) 200hr Certified Yoga Teacher, and a Certified Aromatherapist (PIA Institute). She has been practicing Shiatsu and healing arts since 1997.
After graduating from the Ohashi Institute in 2001, Sara became a Shiatsu instructor under the mentorship of Ohashi Sensei and his niece Kumiko Kanayama, in 2005. After graduation, she continued her shiatsu studies at Zen Shiatsu Chicago, at the Tao Shiatsu Center in Madison, WI and with internationally renowned shiatsu practitioner and teacher Clifford Andrews (Shiatsu College, UK). She is also studying Clean Language Communication with "Words that Touch" author, Nick Pole (UK).
Sara earned her massage therapy diploma at Pacific College of Oriental Medicine in Chicago, in 2008.
Sara is a Certified Aromatherapist with the Pacific Institute of Aromatherapy of Kurt Schnaubelt, and completes several Continuing Education classes with the Aromahead Institute (including 100 hours Aromahead Aromatherapy Teacher Training Program) and the Tisserand Institute.
She has studied AromaAcupoint Therapy 1&2 and started the AromaAcupoint Teacher Training Program with Peter Holmes, L.Ac., MH (author of "Aromatica" vol 1 & 2) and Tiffany Carole, L.Ac.
Sara is currently continuing her studies on the application of the Essential Oils on Acupuncture Points and Channels following the teachings of Jeffrey Yuen.
Sensitive to the toll that mental and emotional stress have on the body, her work specializes in the application of Traditional Chinese Medicine and Zen Shiatsu meridian science to the treatment of chronic pain and emotional stress.
Additionally, combining her bodywork practice and aromapoint therapy with yoga and health coaching, Sara specializes in helping women of all ages develop a better relationship with food and themselves. Learning to honor the body and trust its cues by understanding what drives compulsive eating pattern, allows us to find greater joy and fulfillment in all areas of life.
Over the years, Sara has worked with adults, seniors and teens. She has extensive experience working in her own bodywork private practice, in acupuncture clinics, hospital settings, integrative centers, including an emotional wellness center.
In addition to her clinical practice, Sara has been teaching Shiatsu, Ethics, East Asian Clinical Massage, and has been a Massage Clinic Supervisor at Pacific College since 2007.
During the years at Pacific College, she has also served as Clinic Manager, assistant to the Massage Program coordinator, and as Chair of the Massage Department.
She has also taught Shiatsu, Chinese Medicine and CE classes to massage and bodywork students and therapists extensively at Zen Shiatsu Chicago and other educational settings in the Chicago area.