Order Your Shiatsu Mats For your Classes

Order Shiatsu Mats Online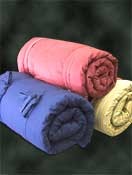 Shiatsu Mats from Zen Shiatsu Chicago
Buy Shiatsu Mats Online:
100% cotton. Made in the USA. Covers have sewn-in straps for easy transportation and storage. Available in black, red, royal blue, and creme.
We have been selling our futons to massage and shiatsu schools around the country for years! Easy to roll up and transport, with a durable, washable cover, they make great exercise mats as well.
All prices include US shipping.
Double Shiatsu Futon 54W x 75 x 1.5D $274
Queen Shiatsu Futon 60W x 80L x 1.5D $360